posted Sun, 10 Oct 2004
The trip to the King Biscuit Blues Fest did not go as well as we had hoped. It was rainy and cold and the sound equipment was not adjusted properly, so Harpo's dulcet tones were distorted. He is quite disappointed, as you can see in his blog.
But the day was not a complete waste. As is usual at this type of thing, the people watching was great. Lots of aging baby boomers who refuse to admit they are not 18 any more. Why they think grey hair on men looks better if it is long is beyond me.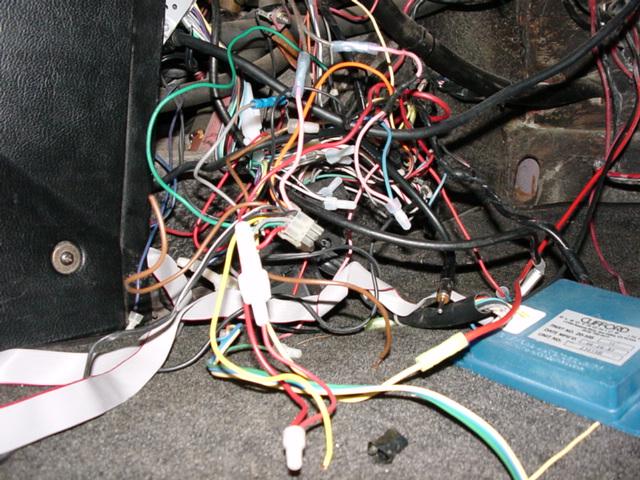 This is sort of what wiring looked like, only outdoors with extension cords. And some of it on the ground. In water.
Source: http://www.panteraplace.com/Tech%20Info/Bad%20wiring%202.JPG
The festival has been going on for 19 years, I think, but there were certain aspects of it that were rather amateurish. The wiring, for one. Every time I visit one of my division's factories, I am used to reading the safety rules. I see clear yellow lines indicating walk lanes. I see lockout procedures defined. The moving parts on machines are guarded. Wiring is concealed or taped.
Not so at the fest. Everything looked jerry-rigged. Wires were strung knee high across the sidewalks. When they were at ground level, they were not taped down. They weren't even tied together where they were plugged together to keep them from pulling apart if there were a little bit of tension. Good thing it was raining.
On the drive home – past the casinos at Tunica – we saw a series of billboards. The first was for a pawnshop. Then one for foreclosed houses. Then one for gamblers anonymous. I was expecting one on how to sell a kidney.