posted Mon, 28 Feb 2005
The Big Factotum is coming for a visit. She'll be here this weekend.
This means I have to clean my house.
Not to the "I really can't see dust and other icky stuff if I don't wear my glasses" level but to the "my mother is visiting" level.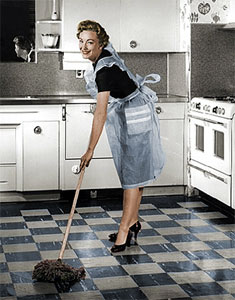 What I really want is someone like my mom to clean my house. Kind of like no one ever cares about your kids as much as you do – no one ever cares about your house as much as you do. There are certain things you just can't trust other people to do right.
Source: http://www.1976design.com/blog/images/302a.jpg
Those are two very different standards of clean, as those of you with mothers know.
Not that I don't want my house to be nice for company, especially my mom. But man, it's a lot of work to get a house really clean!
I was going to moan about how the timing on having to fire my cleaning lady was really awful, but as I was doing this excruciating work this weekend, I realized that there were a lot of things my cleaning lady – did not clean.
See, my philosophy on paying someone else to clean my house was that that person would do the really crummy, nasty, hard cleaning and I would do a touch-up in between her visits. For sixty dollars, I should never have had cobwebs in the ceiling or a dirty oven. My floors should have shone like glass and all the silver should have been polished (if I had silver). For sixty dollars, my basement should have been clean. The grout in the bathroom should have been spotless. For sixty dollars, I should have gotten a good six, if not eight or nine, hours of work.
Nope.
Last month, when I had to clean after I fired Esperanza, I found dust bunnies clinging to the bottom of my dresser. Odd. Could so much dust really accumulate in one month? I sucked the bunnies into vacuum oblivion, then looked again this weekend. Interestingly, there was almost
no
dust there this month. Apparently, so much dust could
not
accumulate in a month. It had just never been cleaned before.
When my dolls were molting, I cleaned the mess. There has not been a mess since. Maybe the doll-eating bugs are dead or out of season. Or maybe it takes longer than a month for as much dirt to accumulate as had when I cleaned it.
When I vacuumed the kitchen yesterday, the nozzle wouldn't fit between the fridge and the wall. I pulled the fridge away from the wall and YUCK! Now I know what almost four years' of accumulated cobwebs and dust looks like. It's disgusting.
My friend Leigh said that I really couldn't expect a cleaning lady to pull a refrigerator away from a wall to clean.
Yes, I can! If I am paying someone else to clean my house, that's exactly what I expect – I expect that someone to do all the yucky stuff that no one ever wants to do. My gosh, that's the only reason to pay someone else to do this. Otherwise, for $60, I can not clean my house myself.
Tonight, the dusting. Bathroom will be at the last minute because it's just going to get dirty again anyhow.
Pity me.