posted Wed, 06 Jul 2005
Less than a month ago, the wife of my colleague George died. Clara had been ill for a while, so her death, although saddening, was not a surprise.
Tonight, on my way out of the office, I passed George and Stan. They wanted me to chat, but I informed them I was starving and wanted to get home.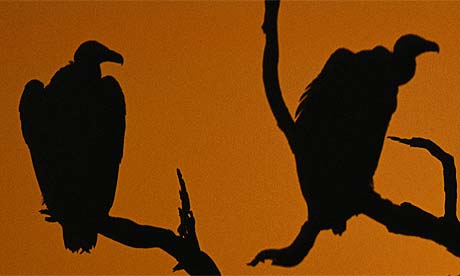 You'd think that the single/divorced/widowed church ladies would have the grace to let the body of their
friend
get cold before they would start hitting on her husband.
Source: http://static.guim.co.uk/sys-images/Guardian/Pix/pictures/2008/04/29/vulture11b.jpg

"You can go with George to his church for supper! He needs protection!" said Stan.
"Are they attacking you
already
?" I asked George in disbelief.
He looked up at me, shook his head and smiled.
"Have they showed up at your house with casseroles?"
"No, they just keep coming up to me at church," he laughed. "Clara warned me about this before she died."
Stan urged, "You go with him so they will think you are his girlfriend!"
As George is three years older than my mother, some of his church friends might find that a little hard to believe – especially less than a month after Clara's passing.
"That would cause some gossip for sure!" George chuckled.
"I'll do it if you want me to!" I said. I draped my arm over his shoulder and said, "I'll tell those women, 'Y'all keep your hands off my
man
!'"